As London talks Brexit, Scotland continues to mull IndyRef2
As London talks Brexit, Scotland continues to mull IndyRef2
Glasgow's Scottish Exhibition and Conference Centre (SECC) has seen a few stage spectaculars in its time.
Musicians, comedians and panto stars who've carried audiences from curtain-up to crescendo, experts in the time-honoured build towards a big finish.
It's not the Nicola routine – not here. 
She's the headline act who's flipped the set-list, for whom crescendos come first. 
It was in her introductory speech on day one that she hit peak SNP hashtag, as she talked #IndyRef2.
Saturday's set-piece address to close conference is set for the shade. 
Video: Hard Brexit 'biggest risk to Scottish economy today'
Because this auditorium reeks referendum. 
An audience that wants Scottish independence yesterday would have welcomed the early stiffener to settle nerves over the when and the whether – when it might be held and whether or not their leader had a plan.
The plan boils down thus: Respect Scotland or Lose It.
Nicola Sturgeon said that she wants "substantial additional powers" for the Scottish parliament and the protection of Scotland's place in the EU single market, even if the rest of the UK decides to leave.
It is her cost of cooperation as a unified UK moves towards Brexit but, if it's not forthcoming, she raised the prospect of pushing for a referendum before the UK leaves the EU.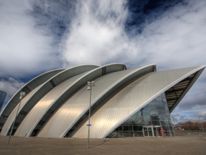 Image Caption:
So, possibly before 2019, notwithstanding the legal obstacles that would stand in the way.
We brought together two supporters of Scottish independence to 'listen-in' on the current conversation regarding a breakaway. 
Alex Bell is a former SNP adviser and speech-writer for Ms Sturgeon's predecessor, Alex Salmond.
He spoke with Richard Walker the Consulting Editor for the independence-supporting newspaper, The National.
Alex: "I'd be amazed if there's an independence referendum before 2020 because I think the ground is shifting quite rapidly. I think we are now being signalled towards hard Brexit, out of the single market. I think we can describe Theresa May's government as, essentially, an English nationalist government and it's actually becoming harder to see how the Scottish Government will respond, given that there is still no majority for an independence referendum."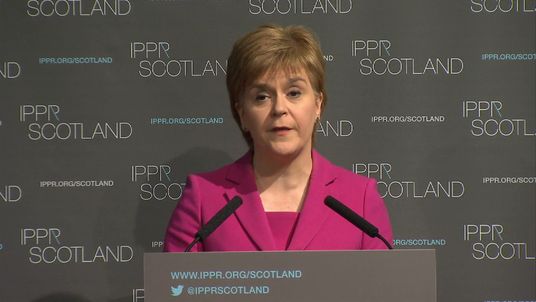 Video: 'The Rules On Brexit Are Not Yet Written'
Richard: "There isn't a majority currently but I think there was an upsurge in support for independence immediately after the Brexit vote. I expect there to be another one when they trigger Article 50 (to leave the EU). That is the time when it will become more apparent what Scotland actually thinks about it – right now, we're in some sort of middle ground where, after the vote, nothing's actually happened. I think when it becomes apparent that Theresa May's government is absolutely paying no attention to Scotland's wishes at all and the suggestion that they would take account of what we want was completely fictitious, I think then people will start becoming justifiably angry and I think then we might see some shifting in the polls."
Alex: "I think there will be a strong sense that Theresa May's politics are not the politics of Scotland but, at the same time, a strong Theresa May makes Scotland's choices harder because we would then have to negotiate and campaign for independence in a world where we know for a fact that London would be the hardest people we would have to negotiate with, Brussels would now become a whole different problem for one reason or another and that we have against us a backdrop of what I would say is a pretty gloomy economic forecast for all developed nations over the next five to ten years."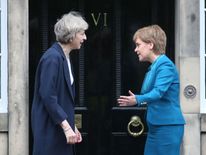 Image Caption:
Richard: "The forecast, economically, is gloomy but it's hard to imagine what a good forecast for independence would be because if the economy is doing well then the argument is 'well, why do you want independence?'… if it's doing badly, the argument is 'well, it's the Scottish government's fault.' The suggestion that England and Wales are moving very far from Scotland is clearly true. I think Scotland will have to take account of that and will react accordingly. I would hope that an independence referendum is held in 2018."
The chat will continue in Glasgow's SECC this weekend.
The SNP's slow-build towards independence continues – whether it'll come to crescendo remains an open question.
Published at Fri, 14 Oct 2016 05:04:44 +0000