Hammond row highlights furious lobbying over Brexit
Hammond row highlights furious lobbying over Brexit
Brexit has divided the Government as it has the country, so it is far from surprising that fault lines are emerging within the Cabinet.
Those who support severing our links with the single market are clearly irked by Chancellor Philip Hammond, who questioned a Home Office plan to introduce visas for EU workers as part of the divorce settlement.
He has been accused by sources of acting "like an accountant", looking too much at the risks and not the benefits of a clean break.
But I am told by a Treasury source that reports of the meeting in The Times and Telegraph have been "overblown" and that this was a "discussion, not a decision-making meeting".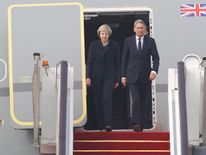 Image Caption:
The newspaper accounts of the sub-committee's debate are strikingly similar, so it suggests those working with the ministers who favour a "hard Brexit" are stirring the pot.
With Theresa May enforcing "message discipline" among her front-line ministers, it appears their special advisers (so-called Spads) are working hard to influence the wider debate.
This is hardly a new development in Whitehall, but expect the "noises off" to grow in clamour as decisions have to be made.
Think tanks like Open Europe – which today warns negotiators to be mindful of the effects of Brexit on banks and insurance companies, not just financial services firms which use "passporting" – are also in the fray.
Video: What's the difference between Hard and Soft Brexit?
Then add to that backbenchers like former deputy prime minister Nick Clegg, who will argue that a "hard Brexit" would hit both exporters of British farm produce and consumers who like French cheese.
The furious lobbying from both sides is both overt and covert, and will only increase in volume.
 
Published at Mon, 17 Oct 2016 08:31:43 +0000