Hammond ditches doom-laden Brexit forecasts
Hammond ditches doom-laden Brexit forecasts
Chancellor Philip Hammond has told MPs that doom-laden Treasury forecasts about Brexit earlier this year have proved to be invalid.
Mr Hammond's predecessor, George Osborne, warned in April that households would end up £4,300 a year worse off as a result of a Leave vote.
The current Chancellor distanced himself from the dire warnings.
But he also appeared to push back against the demands of others in the Cabinet calling for a "hard Brexit" – saying attempts to box the UK into a fixed position were undermining Theresa May's position.
Mr Hammond was grilled by the Commons Treasury Select Committee on whether the pessimistic predictions earlier this year about a Leave vote remained Government policy.
He told MPs that some of the assumptions behind the report "have already proved to be invalid".
These included the assumption that Article 50 – the process for starting the divorce from the EU – would be triggered immediately after the poll.
The model also assumed there would be no policy response, though in fact the Bank of England has taken action including by slashing interest rates.
A longer-term model by the Treasury had not foreseen new trade deals with other countries outside the EU – though these are now being sought.
Mr Hammond said such deals would be able to be concluded much more quickly by the UK on its own than as part of the bloc.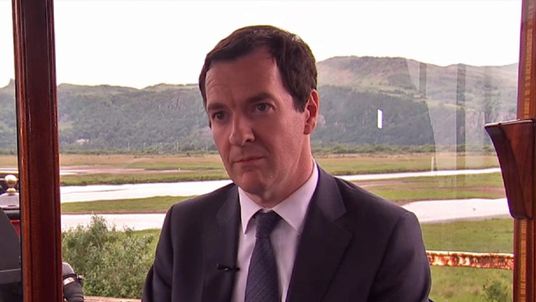 Video: Osborne talks to Sky News on Brexit
He said the Government was seeking to carry out Brexit and control immigration in a way that best protects Britons' jobs, prosperity and future.
The Chancellor said he could not see controls on migration being used to stop banks from moving highly skilled workers.
Mr Hammond told MPs that concerns about immigration did not centre on computer programmers, bankers or brain surgeons – rather on people competing for "entry-level jobs".
He said he did not want to rule out any options on the nature of Brexit but was insistent on not wanting to give away what the Government's negotiating position would be.
Mr Hammond added: "Those that are undermining the effort are those that are seeking to close down that negotiating space, seeking to arrive at hard decisions that we don't need to make at this stage."
Meanwhile, the Chancellor made clear that the Government did not have any plans to remove the independence of the Bank of England in setting interest rates.
That follows remarks by Theresa May at the Conservative Party conference that near-zero interest rates had hurt savers.
Published at Wed, 19 Oct 2016 19:30:28 +0000